Sophie Ko,
Giovanni Kronenberg
miart 2022
Apr 1-3, 2022
Established
Pav. 3 – Booth B07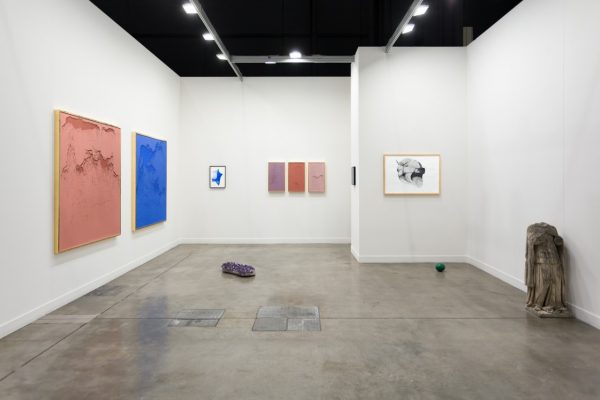 On the occasion of miart 2022, Renata Fabbri is pleased to present a selection of works by the represented artists Sophie Ko (Tbilisi, 1981) and Giovanni Kronenberg (Milan, 1974). Conceived as a double solo show, the project gathers pictorial and sculptural works linked together, in their differences in research and artistic process, by the sense of time and the idea of metamorphosis and transformation.
Through the use of pure pigment powders and ash derived from the burning of pictures of famous artistic works of the past, Sophie Ko gives life to powerful compositions, which are at the same time monumental and fragile, static in their abstraction and dynamic in their unstoppable becoming. The Temporal Geographies exemplifies an artwork eternally suspended between the act of creation and that of destruction, where the image is constantly subjected to a process of change through the slow and relentless fall of the material of which it is made. The force of gravity acting on the latter, modifies the work's configuration creating within cracks, fractures and miniature landslides: traces that record the invisible evidence of the passing of time. Conceived though a conceptual and formal negotiation between sculpture and painting, Sophie Ko's works stage the existing relationship between time and image: "a bond made up of weight, pressure, gravity and of the destruction of time on images, but also of formation, depth and return and rebirth with respect to the passing of time". Metaphors of the caducity and mutability of the existence, her works recall the trajectory of life that we draw, parallel to a slow but persistent collapsing movement.
The work of Giovanni Kronenberg is made up mainly of sculptures and drawings: unusual or rare objects and natural artifacts – like rocks and stones, minerals and precious crystals, horns, bones, furs, sea sponge and ostrich eggs – which Kronenberg defines as "not worn out by gazes". Often collector's items, the artists manipulates them with minimal insertions and transformations, that bring together distant times, often unreachable. Through actions like twisting, blockage, replacement, overlapping – but also, on the contrary, slight and temporary interventions – Kronenberg gives life to unexpected objects, which look eccentric, magnetic and at the same time disturbing. The construction of "a combinatory grammar" underpins Kronenberg's work: a language that acts on the slow sedimentation of the evocative quality inherent in objects and, on their subsequent alteration, through forms of intrusion. This relationship between objects and reality, mostly ambiguous and elusive, also represents a key to Kronenberg's drawings. Here, the image, suspended in an abstract dimension, gives life to a space without reference points, that seems to translate the presence of the figure in an epiphany or apparition.
Join our mailing list for updates about our artists, exhibitions and events.